Learn the Art and Science of PCB Design with Eagle
Learn Circuit Design with the most widely used PCB Design tool in the world, Eagle!
Learning PCB Design used to be hard. But not anymore.
What is included in this course?
Course Completion Certificate
This Course is Suitable for Everyone Including
Passionate people willing to dive in technology learnings
Professionals who want to start PCB designing
Anyone who wants to learn PCB Design
Startups finding difficult to get PCB designed for their products
Electronics engineering students and school students
Those willing to learn PCB Design without buying a costly software
Learning PCB Designing Is Simple When You Have An Expert With You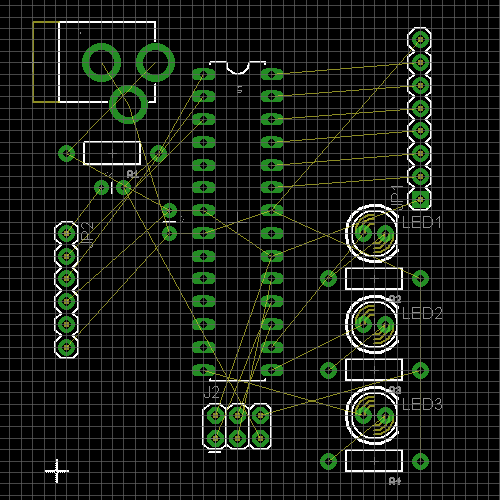 "I believe everyone can learn and excel in technologies with right tools and proper guidance. Hence I make these courses and 50% of all my courses is available for free preview, watch them, if you feel right, enroll!!! I hope you'd like this transparency!!!"
Anyone can learn and excel in printed circuit board design, with a willingness to learn and proper guidance. Hence I've created this course with my 12+ years of experience in electronics design, especially for beginners in electronics design to learn about PCB Design, In Electronics Designing, creating PCBs is one of the most fundamental parts, not only it's fun and exciting but also it's super easy if you have the right tools and instructions.
You'll Design Your First PCB Within 20 Minutes Of Enrolling To The Course
If electronics is your passion, read out!!!
▸ Are you an electronics hobbyist?
▸ Are you a student studying electronics for the first time?
▸ Are you crazy to know about all those open-source schematics on the internet and wonder how these are designed?
Why You Should Take This Course?
I believe everyone can learn and excel in coding with right tools and proper guidance. Hence I have made this courses and 30% of it is available for free preview, watch them, if you feel right, enroll!!! I hope you'd like this transparency!!!
This is for Everyone interested in PCB
Yes, Everyone, No Technical Skills needed. Absolute beginners who have never done PCB Designing before
All future guides and references provided to take the learning further
This isn't just a Video Course, It comes with a lifetime instructor support
LEARNING should not be LENGTHY!!!
My purpose is to get you started quickly with PCB designing and development so you can start making systems fast.
Minimum Theory, Maximum Hands on
This is a complete 4+ hour hands on based self paced course
Course Completion Certificate
Every attendee gets a webinar participation certificate
Why this Eagle PCB Course?
Take the free preview before enrolling the course, 30% of the course is free for you. Decide if its good for you or not even before enrolling. See and decide if you can understand and cope up with the content and the presenter of the course. I've spent hundreds of hours in creating this course and hence want to help maximum students with it. For many of the learners, even this 30% of the content is all they were looking to learn.
PCB Design with Eagle
This course is about learning circuit design with Autodesk Eagle, which is the most popular design tool used by millions of people around the world. If you've ever come across any open-source hardware like Arduino, it's designed with eagle, if you've seen those crazy nice modules and kits developed by Sparkfun, they're designed with an eagle. Eagle has become de-facto language of the PCB design in the open-source world and thereby in the industry.
Moreover, eagle is free for small project size:
For the professionals who are serious about using eagle for job/business, the premium packages of eagle are also the cheapest among all other tools compared to the features it offers
This course deals with eagle from a complete newbie's point of view:
I am assuming that you've never created any PCB on a computer before, or not created PCB at all :), you're still welcome to join this course and see for yourself. This is a super simple and easy to follow the course for designing printed circuit boards, and it is specially designed for them who have never designed PCB's before or not used eagle PCB designing tool. We do not cover any advanced complex techniques in this course
What this course will NOT do for you?
Please be advised that this is a complete beginners course to start creating PCB's, single-sided as well as double-sided
This course is not suitable for existing designers or
Those who already know PCB design and want to learn advanced techniques
This course does not include any tutorial of EMI / EMC considerations
This course does not include 4 layer or multi-layer PCB Design
15 sections • 36 lectures • 3h 28m total length
This Is Not Just A Video Course It Comes With A Lifetime Instructor SupportAnd Consultation
Course Completion Certificate
Course Completion Certificate
Personalized Instructor Support through email and messaging system
Direct Contact with Insturctor on Chat / whatsapp / telegram
2 x One to One Live Sessions with Instructor for doubt clearing
Remote Desktop Support for any unsolved Queries
You Are Not The First To Take The Course
More than 19000 Students from 147+ Countries have enrolled to our courses
"We believe everyone can learn and excel in technologies with right tools and proper guidance"
What Our Students Say
"It was very easy to follow, and I learned a lot about designing PCBs with Eagle. I really enjoyed taking this course as it was very informative and I learned more than I expected to learn. As a side note, I did find the assignment rather useless. It would be nice if it was more challenging and required us to design a schematic or PCB."
"Now that I am pretty sure about my knowledge on basics of PCB design, I can go to the next level of learning. Thank You Sir."
"As an absolute beginner on Schematics and PCB designs, I enrolled for this course and after completing it, I can confidently make my own designs."
Thank you Amit.
Amit is a brilliant trainer, he has a very fluid teaching style, isn't boring like some lecturers I have had in the past. Support is also superb, quick responses and very patient,
Love the course, Good content at very beginning level. Most topics are covered very superficial
Nice teaching skill."
​
"I recommend this course because it start from zero and the professor explain clearly all the concepts."
"Just great! It was a good match for me because I've never design my own board, and the explanation is really easy to understand. "I love it - easy to follow, Thank you very much for the nice work!"
"I found this course very descriptive and helpful. It helped me develop an approach towards PCB design. I would love to explore some new content from the instructor in the future as well."
"The advantage of this course is its conciseness. I can learn basics of pcb within 5 days spending 1 hour a day after my regular job."
"I enjoyed learning PCB design from scratch. The course is nicely designed for beginners as well as professionals. I recommend this course to anyone interested in learning fast in no time."
​
"This is a very good course even for beginner to this field. So I am so happy about this course and I invite you to join with this course and polish your knowledge and experiences in the PCB designing. "
"Wonderful episode . Very informative, cant really wait for next episode worth spending
Really good work, I get exactly what I have paid for."
"This entire course has been wonderful. I will definitely take up your advice seriously and practice regularly.
Feeling great to have completed nice teaching skill."
M.E. Electronics, 12 Years of Experience.
Engineer, Developer and Trainer, Founder of Kitflix.com
Amit Rana is an Industrial Consultant for Internet of Things and Embedded Systems. Amit is a Product Development Specialist in Electronics and also an Online and Corporate Trainer.
Currently building a platform (kitflix) for everyone who is interested in learning electronics and related technologies.
Ranging from simple counter to IoT system for CNC machines and end to end product development for smart cars, Amit has made his passion for electronics and programming a hobby and a full time profession
By Education.